We were honoured to host an intimate lunch with The Woolmark Company at the iconic paddock-to-plate Woollahra dining destination, Chiswick, to celebrate the provenance, history and calibre of Australian Merino wool.
Over a hyper-localised menu and wine list, designed to spotlight local farmers and their passion, Australian craftsmanship and sustainable, innovative techniques, we teased out the parallels between the Chiswick ethos of celebrating seasonal produce and the ways tailoring and fashion brands are bound to the success and passion of local woolgrowers.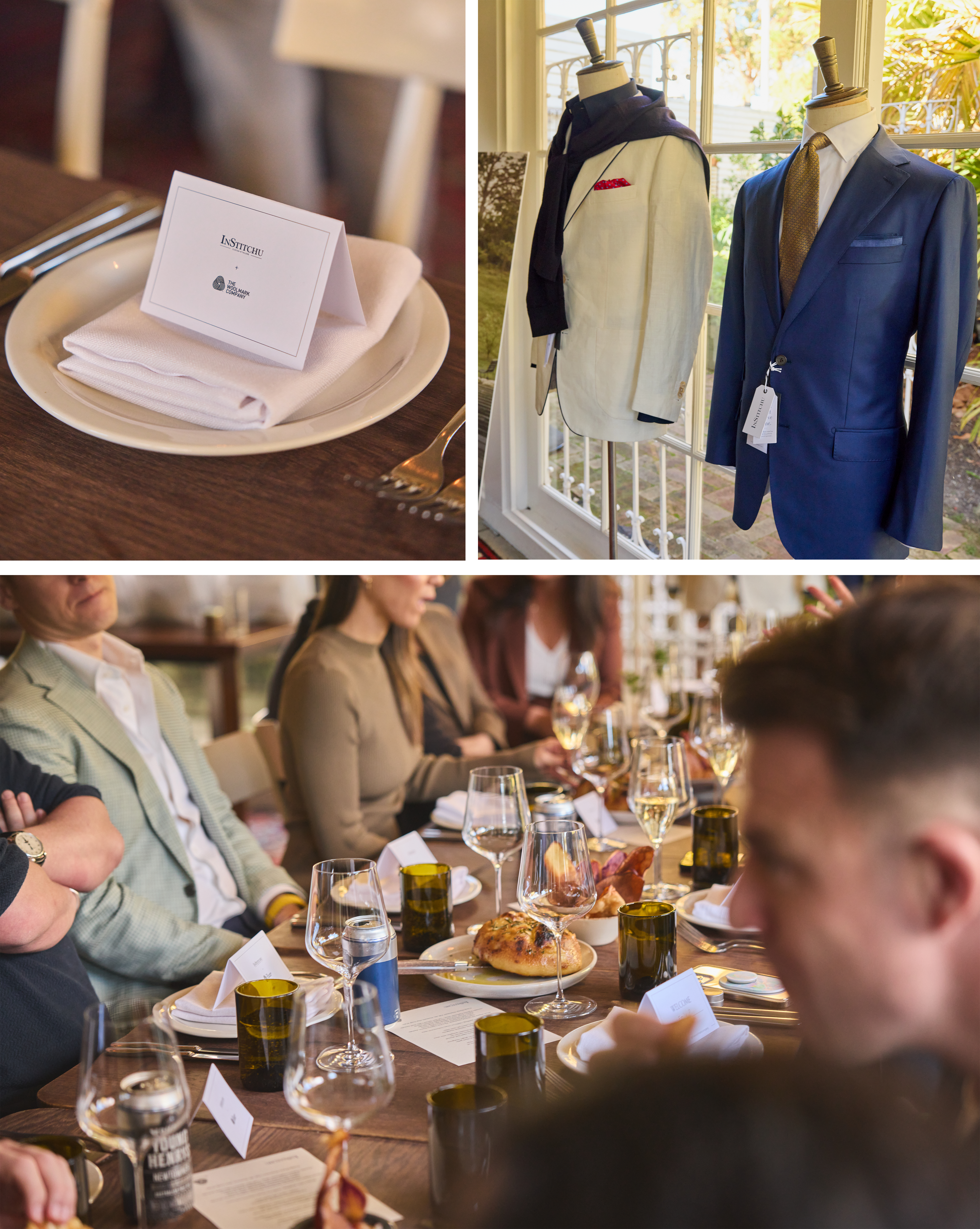 Chiswick Head Chef Taylor Cullen sat for a Q&A on the Chiswick philosophy, talking to the design of the menu and the ways it incorporates sustainable, seasonal ingredients, as well as taking guests on a private tour of the Chiswick garden responsible for much of the produce served.
James Wakefield, CEO and Co-Founder at InStitchu, says:
"It was a fantastic day celebrating Australian Merino wool and custom tailoring with Woolmark and some of our closest friends. We're very proud to work with Australian Merino wool in our made-to-measure garments, because it is the premier fibre for suiting and smart tailoring, and we greatly admire the work The Woolmark Company does in bringing the stories behind the Australian wool industry to life. At this lunch we really wanted to dive into some of the stories and work behind what Woolmark are doing, and talk about the ways that InStitchu–as Australia's largest custom tailoring brand–have helped to bring Australian Merino wool to customers in an innovative, premium and affordable way."
Representatives from Woolmark also spoke through some of the remarkable innovation powering the Australian wool industry, from a farm level through to milling and manufacturing of final garments, exploring how Australian woolgrowers are constantly taking steps to improve their environmental and ethical practices, creating positive change through open and honest conversations. Australian Merino wool is a 100% natural, renewable, biodegradable and recyclable fibre. No other fibre - natural or man-made - can match wool's eco and technical benefits.
Australian woolgrowers work to preserve, protect and improve the natural resources of their farms; the waterways, valleys and hills, and native plants and animals. The Woolmark Company provides valuable resources and workshops to run projects dedicated to environmental health, including improving soil quality and enhancing biodiversity. Australian woolgrowers are constantly innovating to improve the health of the environment on which they live, connecting nature with discerning fashion brands and consumers.
InStitchu Head of Marketing, Rob O'Reilly, says:
"We wanted to explore the craftsmanship and passion behind Australian Merino wool, so it was an obvious choice hosting our lunch at Chiswick in Woollahra. They've been a culinary leader in the way they celebrate local produce, supporting and spotlighting Australian farmers and produce. It was fascinating to hear from Woolmark and hear how they're leading the world in sustainable, innovative farming practices. It's important that brands that work with Australian Merino wool properly acknowledge the work Aussie woolgrowers and Woolmark do, given that the incredibly quality of our garments is, in a large way, thanks to Merino farmers."
-
To start designing your own custom, tailored suit, shirt, blazer, chinos and more, try our online design tool, or alternatively make a video appointment or showroom appointment.