We caught up with the remarkable, dynamic Craig Hollywood, to discuss his non-profit Short Back & Sidewalks, who've just given their 7000th free haircut to those in need. Craig was acknowledged for his amazing work in the community as the 2022 Western Australian Local Hero of the Year in the 2022 Australian of the Year Awards.
Tell us about Short Back and Sidewalks. What do you actually do? How many haircuts have you done?
Short Back & Sidewalks is a national, volunteer-led organisation that provides positive connections and breaks the stigma attached to members of the community in need, one free haircut at a time. 
We feel that when you look good, you feel good, and alongside giving free haircuts, our organisation provides connection to members of the community who often say they feel completely forgotten about.
Recently Short Back & Sidewalks provided our 7000th free haircut to those in need.
How did you land on the vision and purpose? How has that shifted (or not shifted) over time?
The vision of Short Back & Sidewalks is to ensure people experiencing homelessness have self confidence about their appearance and positive connections with others in the community. 
Since the first days when we stepped onto the streets of Perth with a few milk crates as seats giving haircuts on weekends, to now being a national organisation operating in WA, SA, NSW & VIC with over 300 volunteers, our vision has remained the same, to have a positive frontline impact to some of Australia's most vulnerable people. 
What was your personal journey to found the non-profit?
My journey started 25 years ago at the age of 15 when our family lost a loved one having lost his battle with addiction. He was someone who I felt safe around, he had a huge smile, he used to take me to the Glasgow Fair and to get fish and chips, I remember when he used to hold my hand, I remember feeling safe around him. He also had his demons and one of them was alcohol. I hated those demons. He also at times experienced homelessness, and this lit the fire of empathy inside and it's been growing ever since.
Tell us about some of the recent news and milestones you've hit as a charity…
For my work in founding Short Back & Sidewalks I had the honour of winning an Australian Of The Year award in 2022 as Western Australia's Local Hero and also was named as the City Of Perth Citizen of The Year 2022.
Short Back & Sidewalks recently had bi-partisan pre-election support from both major Australian political parties, and received $400,000 of Federal support from the Albanese Government.
Short Back & Sidewalks recently announced a partnership with global hair care brand evo to connect with salons and hair cutters, plus ensuring all our services are equipped with evo products and tools. Partnering with an awesome, like minded organisation such as evo will give SBSW the opportunity to scale our impact, and help more people in need as we move towards our target of 15,000 free haircuts a year by 2025.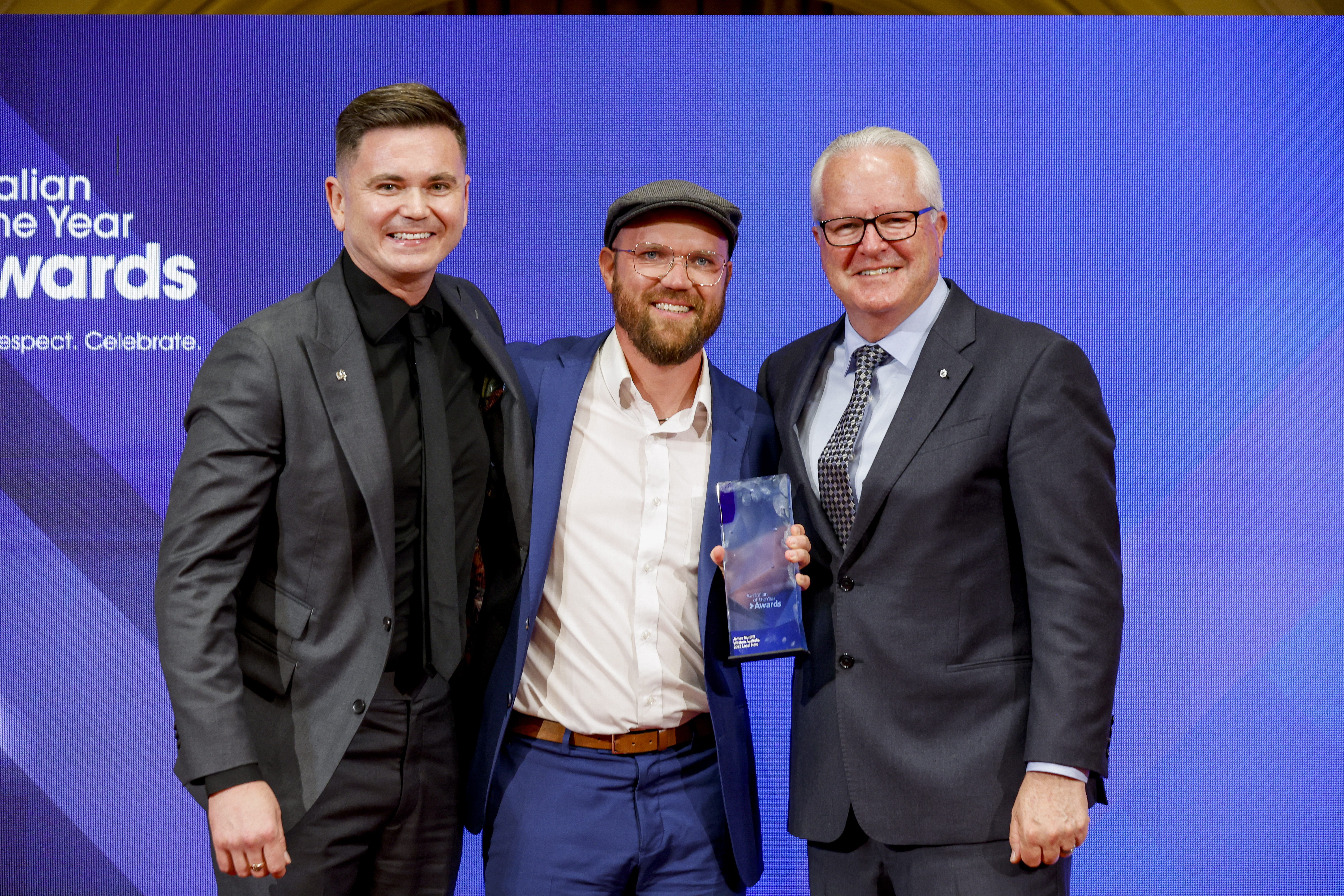 Where do you picture the non-profit heading in the next few years?
By 2025 Short Back & Sidewalks aims to be doing 30 weekly services across Australia which works out to be 15,000 free haircuts a year. We're now poised to take out next steps as an organisation and how we develop sustainable streams of revenue via relationships with Governments, corporates and how we develop sustainable income streams on our own.
What's the biggest challenge you face at Short Back and Sidewalks?
The biggest challenge facing Short Back & Sidewalks is, now that we've spent the last 8 years on building the foundations of the organisation, how do we build the next pieces? 
In the coming 12 months we aim to secure a principal partnership with a like minded corporate, someone who shares our values of inclusion, collaboration and also making a better world for everyone. 
Tell us about your InStitchu experience. What did you design? How did you enjoy the experience?
My Institchu experience was unreal, from the minute I walked through the doors in the St. Georges Terrace store in Perth, being greeted by the awesomely talented and friendly Institchu Style Consultant Bailey Ireland, all the way through to having the finishing touches made and walking out with my brand new tailored piece. I love everything about it, from the custom lining all the way through to the extra pockets and also having my name woven into the side panel. It's amazing!
Have you worn the suit yet? How did it fit and feel? 
I've worn the suit on various occasions, one being when I was invited to Government House in Perth to speak with His Excellency the Honourable Christopher John Dawson APM, Western Australia's Governor. It not only feels amazing, but provided confidence during the conversation, where we spoke about the role Short Back & Sidewalks plays in helping to end homlessness in Australia, as well as future business plans for the organisation.
I also wore the suit to the Anti Poverty Lunch put on by Business News and plan to put it on for the Australian Of The Year Awards Ceremony as I congratulate the winner for 2023.
-
To start designing your own custom, tailored suit, shirt, blazer, chinos and more, try our online design tool, or alternatively make a video appointment or showroom appointment.